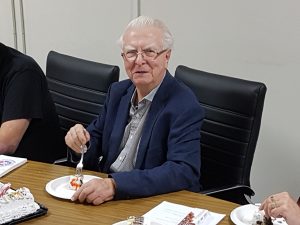 (picture taken September 22, 2017)
Norman G. Bezanson
IAM District Lodge 14 Retiree
Former Grand Lodge Representative/Organizer
IAM Local Lodge 1722 Member / Formerly IAM Local Lodge 1579 Member
(September 20, 1929 – January 27, 2022)
It is with deep sorrow that we inform you that Brother Norman Bezanson passed away January 27, 2022 at the age of 92.  He is lovingly remembered by his daughter Donna and son Robert (Armando), as well as his six grandchildren Sara, Kya, Celeste, Noah, Samuel and Hope.  He is predeceased by his wife Marie Ella June, sons Ellis and Karl, sisters Mary and Maude and brother Blair.  Memorial services will be held on Saturday, May 28, 2022 at 2:00 p.m. at Connelly-McKinley Funeral Home (10011 – 114 Street, Edmonton).  You can view the service from this link.