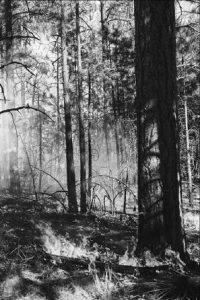 With smoke filled sky's on the horizon of the MacKenzie Highway, just north of the Alberta border, ash is all that is left in the wake of the wildfires that have already destroyed the town of Enterprise, N.W.T.
Kevin Clark of the International Association of Machinists and Aerospace Workers, District Lodge 14 had his hands full contacting members in the Yellowknife and Ekati Mine area (approximately 310 kilometers north-east of Yellowknife) and fortunately no injuries have been reported thus far.
"Receiving information from the employer (Finning Canada) throughout the day, the office was kept up-to-date with new developments as they were made available.  We continue to monitor the situation daily to ensure our members' and their family's safety, which is the top priority", said Kevin Clark, Directing Business Representative of IAM District Lodge 14.
As reported from news agencies, N.W.T. has declared a state of emergency with approximately 20,000 people in the city of Yellowknife being ordered to evacuate by noon on Friday, August 18, 2023.  This amount would include about twenty IAM Contract Lodge 99 members that reside or work in the Yellowknife area.