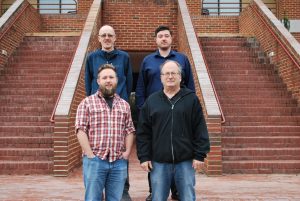 The IAM Local Lodge 1722 Diamond International bargaining team:
top – Gerry Sheridan, Matt Barnable || bottom – Kyle Franzen, Ed Zubick
Bargaining Preps at the Harbour = more tools for negotiation toolbox!
Hollywood, MD – What a difference a week makes. It's a common refrain from IAM members who attend courses at the Union's renowned William W. Winpisinger Education Centre.
That sentiment was echoed by the four members of the bargaining team from IAM Local Lodge 1722, who recently spent a week taking bargaining preparation classes at the W3 Centre for their upcoming negotiations with Diamond International in Edmonton, Alberta. Often referred to by members as 'The Harbour', due to its location next to Placid Harbour on the shores of Chesapeake Bay, the W3 Centre offers members education, free from the distractions of the workplace.
"The level of training the IAM staff at the W3 provide to our members is unparalleled," explained IAM District Lodge 14 Business Representative Matt Barnable. "It was a great week, free of distractions so we could just focus on the upcoming negotiations with Diamond."
"It was a great learning experience from the lessons taught, to the instructor's wisdom on past and present experiences," said Kyle Franzen, bargaining team member and Secretary Treasurer of IAM Local Lodge 1722. "It gave the committee some much needed time to bond and form our identity."
The thirty members of the Local consist of mechanics and technicians who service vehicles and equipment from the City of Edmonton, the RCMP and the Canadian Forces.
"With our course now over, our bargaining unit has added confidence that we will achieve a more favourable experience negotiating with the company," said Franzen. The week long course was perhaps best summed up by Barnable, "The members are vital to our community and deserve a fair contract. I believe we left Maryland with many more tools in our negotiation toolbox to achieve this."