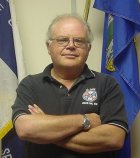 Howard Ellis-Toddington
IAM Local Lodge 1579 – Retiree
(picture taken July 7, 2005)

(July 7, 1954 – April 18, 2020)
It is with deep sadness that we inform Brother Howard Ellis-Toddington passed away Saturday, April 18, 2020 at the age of 65.
Derek Ellis-Toddington (son) advised that his dad was cremated and they will not be having a service.  Howy wished to be taken to his home town of Moosejaw, Saskatchewan to be laid to rest.  R.I.P. Brother Howy.  You touched so many lives and made us better because we knew you.