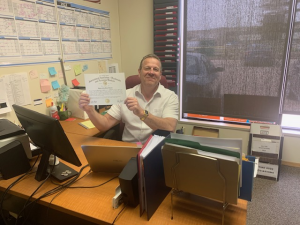 May 19, 2023 – Brother Kevin Clark, Directing Business Representative of IAM District Lodge 14 accepting his 35 year veteran certificate and badge.

Kevin started with the International Association of Machinists and Aerospace Workers on July 11, 1988 in B.C. as a 4th Year Apprentice Heavy Duty Mechanic working for Finning Power Systems Vancouver, B.C. with IAM Local 692.  In 1993-1994 he transferred to Finning Williams Lake, B.C.    A later transfer moved him from B.C. to Alberta when on May 1, 2001 he transferred to Finning Edmonton Power Systems and that also moved him into IAM Local 99 where he finished his career as a Heavy Duty Mechanic.
At the May 29, 2008 District Meeting he was elected as a Non Grand Lodge Funded Business Representative with term commencing on September 1, 2008 for a 4-year term, which continued until April 1, 2011 when Richard Arsenault, DBR moved on to a Grand Lodge East Coast position.  At that time Kevin became a Grand Lodge Funded Business Representative and then on  April 27, 2018 he was elected as the Directing Business Representative of District Lodge 14 and he holds that position today.
Along with two other Business Representatives (Kyle Franzen and Victor Quintanilla) working for District 14, Kevin's work piece of the pie is representing the membership for IAMLL1722 UFCW Labour Officers and UFCW Clerical Workers, IAMLL 2583 Field Aviation, IAMLL99 Finning and Finning D50 Warehouse.
The position is not always an easy one, but his years of service and experience help guide the way.